Discreet Exterminator: Makers of ingenious solutions.
Our exterminators at Discreet Exterminator are all professional and indeed reliable. They have the expertise, skills and knowledge to undertake mouse extermination effectively at your convenience and safety. All their solutions are of highest standards giving you the satisfaction that you truly deserve from us.
We have become Ilford's number one because of our excellent workmanship. With fully equipped professionals and fully dedicated staffs, we are very much confident that we can give you the best service there is that can never be matched by any.
Unlike any other service providers, our exterminators take time to really determine the right solution to apply. Like most people say, we always do it slowly but surely. Every time we apply the right treatment, excellent results can always be expected. So for the best service that is surely cost effective, please do not hesitate to give us a call at 07402056008. Ours is guaranteed to be the best mouse control in Ilford.
Facts you should know about mice
Mice are somewhat similar with that of the rats. They just differ in a few things such as the size and their life span. Here are a few things that you should know about mice to distinguish it from the rest:
Mice can be usually seen within household premises, food establishments and other similar structures.
A house mouse is also depended on water to survive like any other else. But even without water, they can still survive as long as their food has this 10 to 20% of moisture.
A mouse is an omnivorous rodent but usually feeds on various household food products. They travel outside to look for food and drink. After which, they will find their way back to their harbourage.
This pest comes in brown or grey colour. Like rats, the underside is normally lighter.
The ears of mice are generally large while their eyes are typically small.
Similar to rats, their tails are normally shorter than their head and body.
Mice are usually lighter in weight as compared with rats. They only weigh between 10 to 25 grams.
Mice have a shorter life span than that of the rats. They mature in just six weeks can live up to 3 to 4 months only.
Mice infestation inside household premises are said to be rampant during winter because they are in search of a place that could give them warmth and shelter. It should be noted that when they have established inside your homes, they are really hard to control already.
Though small in size, they can still cause great damages more than any other pests.
Mice do transmit diseases such as salmonellosis or bacterial food poisoning. This happens usually because of contamination of the pest's faeces and urine.
They are rarely seen because mice are nocturnal creatures.
Signs you will notice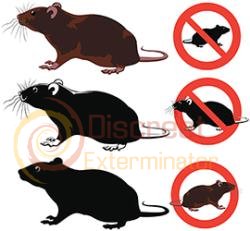 The presence of mice is really similar to that of the rats. That is why both mice and rats are interchanged at times. The most important thing that you will have to consider is that when you notice the following signs, immediately call the professional exterminators who can provide you with the best mouse control in Ilford.
You can find holes at your premises. Usually you can see this within walls or any wood structures within the premises.
There are also gnaw marks, runs and smear marks. In the same way, you can find damaged good within the place.
Droppings can be found anywhere most especially in areas near your food.
Like the droppings, you will also notice a substance in your place which is their urine. It should be noted that this substance should be cleaned immediately as it will cause possible contamination.
Finally, you will really say that you are actually living with mice when you see them around once in a while. It could be worse when you see them dead.
If you are currently experiencing these signs, then there must be a need for you to give us a call right away before it is too late. Contact us at 07402056008 to have the best service that has been trusted by many bed bugs killers in Ilford.
How we handle your mouse problems
Discreet Exterminator is very well adept in dealing with this kind of problem. With our years of experience, we can give our customers a guarantee that we can give the best cockroaches treatment there is in Ilford.
After we have determined the kind of species present at your premises, we will then formulate the best solution that would best fit the situation. We will implement it appropriately so as to ensure that it will be effective in getting rid of your problems.
We have always aimed to give total satisfaction to all our customers through our quality solutions. In the same way, we also want to safeguard the health and safety of everybody. Thus, we only apply treatments that are tough on mice yet gentle and risk free to humans.
The first thing that we do is to set up the bait properly. We make sure that no one can access this bait other than our targeted pests. For domestic mouse problems, we put up a specialised bait so as not to give problem to you and your family.